A Connecticut Yankee on the Starship Enterprise
Mark Twain on "Star Trek"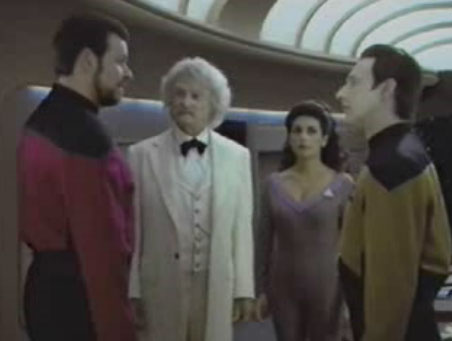 For the 1992 season finale, the creators of Star Trek: The Next Generation chose to transplant their cast of characters to San Francisco in 1893. The choice of locations is not nearly as interesting as the man they meet in San Francisco--Samuel Clemens, aka Mark Twain. In his fiction, Mark Twain often wrote of frontiers-- the free lands on the other side of the Mississippi, the great West as seen especially in Roughing It, and even time traveling, as in his novel, A Connecticut Yankee in King Arthur's Court.
It is therefore not surprising that the Star Trek's writers chose Mark Twain as a special guest. Not only is he one of the most famous and colorful figures in American history, he is also associated with the American West and the frontier--akin to Star Trek's seeking out the frontiers of the solar system in search for new civilizations. But Twain is also useful to enforce one of the show's main points. As a staunch anti-imperialist late in life, and supposedly rather bitter and cynical before his death, he can (and does) stand in opposition to what he considers the USS Enterprise's mission--but after a few firm philosophical lectures on the benevolence of the Enterprise and its crew, and a promise of a brighter future for those on Earth, Twain surprisingly changes his ways.