Excerpted Passage
To go back to the review that cited this passage, click on Review at the bottom left of the passage. To go to the place in the MT text from which the passage was taken, click on Text at the bottom right.
---
Only one thing could explain this: that other magician had been cutting under me, sure. This was true. I asked a friend of mine, a monk, about it, and he said, yes, the magician had tried some further enchantments and found out that the court had concluded to make no journey at all, but stay at home. Think of that! Observe how much a reputation was worth in such a country. These people had seen me do the very showiest bit of magic in history, and the only one within their memory that had a positive value, and yet here they were, ready to take up with an adventurer who could offer no evidence of his powers but his mere unproven word.
However, it was not good politics to let the king come without any fuss and feathers at all, so I went down and drummed up a procession of pilgrims and smoked out a batch of hermits and started them out at two o'clock to meet him. And that was the sort of state he arrived in. The abbot was helpless with rage and humiliation when I brought him out on a balcony and showed him the head of the state marching in and never a monk on hand to offer him welcome, and no stir of life or clang of joy-bell to glad his spirit. He took one look and then flew to rouse out his forces. The next minute the bells were dinning furiously, and the various buildings were vomiting monks and nuns, who went swarming in a rush toward the coming procession; and with them went that magician -- and he was on a rail, too, by the abbot's order; and his reputation was in the mud, and mine was in the sky again. Yes, a man can keep his trademark current in such a country, but he can't sit around and do it; he has got to be on deck and attending to business right along.
[from Chapter 24, Connecticut Yankee]
---
Review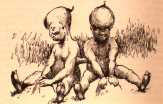 Text