Excerpted Passage
To go back to the review that cited this passage, click on Review at the bottom left of the passage. To go to the place in the MT text from which the passage was taken, click on Text at the bottom right.
---
That was a little idea of my own, and had several wholesome purposes in view toward the civilizing and uplifting of this nation. In the first place, it was a furtive, underhand blow at this nonsense of knight errantry, though nobody suspected that but me. I had started a number of these people out -- the bravest knights I could get -- each sandwiched between bulletin-boards bearing one device or another, and I judged that by and by when they got to be numerous enough they would begin to look ridiculous; and then, even the steel-clad ass that hadn't any board would himself begin to look ridiculous because he was out of the fashion.
---
Whenever my missionaries overcame a knight errant on the road they washed him, and when he got well they swore him to go and get a bulletin-board and disseminate soap and civilization the rest of his days. As a consequence the workers in the field were increasing by degrees, and the reform was steadily spreading.
[from Chapter 16, Connecticut Yankee]
---
Review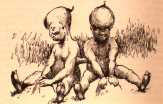 Text