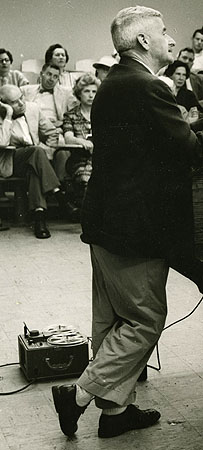 Faulkner was Writer-in-Residence at the University of Virginia during two different Spring terms (1957 and 1958). During that time he was asked to speak to and answer questions from almost forty different groups, including students, faculty and members of the community. Many of the more than 2000 questions he was asked concerned Absalom, Absalom!, which Faulkner re-read in 1958 in order to refresh his memory of it.
The UVA sessions were recorded on the reel-to-reel tape recorders of that time (left). In 1959 the University of Virginia Press published transcripts from them in Faulkner in the University, edited by Frederick L. Gwynn and Joseph L. Blotner, scholars who were in the university's English Department while Faulkner was in residence.
You can hear half a dozen of Faulkner's most resonant comments on the novel through the links below. In these sessions he is speaking to the English Club (1957) and, mainly (in 1958, after having just re-read the novel), to combined graduate and undergrad literature classes. The questions he is answering were barely audible, and have not been included in the audio files. But you can read texts of both the questions and the answers while listening to Faulkner himself, twenty years after writing the story, add his voice to those of the narrators in the novel.