I've found hundreds of Kemble illustrations of African Americans in periodicals and books from 1885 to 1910. He was used by magazines like The Century to illustrate short stories in the popular, nostalgic genre of the "plantation tale," and also, for example, did the illustrations for several of Joel Chandler Harris' Uncle Remus books and an 1892 edition of Uncle Tom's Cabin. His work was obviously very popular. In a comment on an article he illustrated in The Southern Magazine, The American Monthly Review of Reviews referred to him this way: "the only artist who has yet seemed to have any success in picturing the Southern negro -- E.W. Kemble" (April, 1894).
The illustration below is from The Century for October, 1887, for a piece (purporting to be essentially true) by James Lane Allen, called "Mrs. Stowe's 'Uncle Tom' at Home in Kentucky." According to Allen, Tom was neither sold south nor beaten to death, but in fact still lives happily in Kentucky: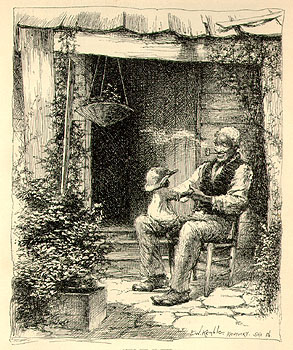 Though mainly an illustrator of other people's works, Kemble produced two books of his own drawings: Kemble's Coons (1897) and Comical Coons (1898). Both were published by the New York firm of R. H. Russell and Son; you can get a good idea of their contents from the cover of the second one: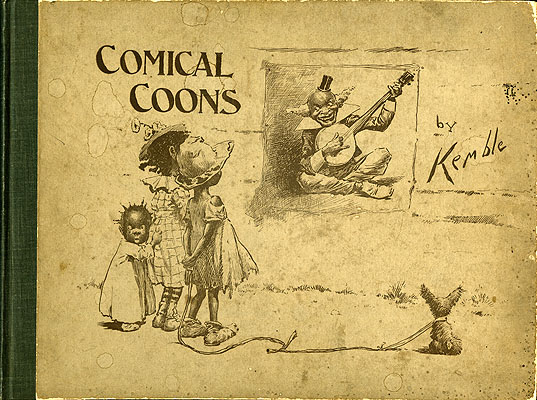 Over the decades between 1885 and the early 20th century, his "comical" cartoons were also regularly featured in magazines. As far as I have been able to discover, all of them feature caricatures of African Americans. The one below is from Life, for 16 February 1899:
For more examples of Kemble's illustrations of blacks, see IMAGING SLAVERY IN MT'S BOOKS.