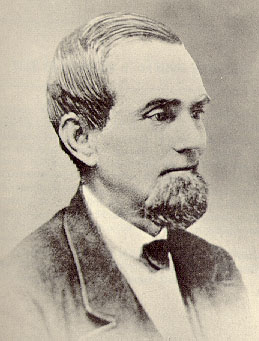 GEORGE WASHINGTON HARRIS
George Washington Harris was born near Pittsburgh, Pennsylvania on March 20, 1814. In 1819 he moved to Knoxville, Tennessee with his older half-brother, Samuel Bell. He spent the majority of his life in this young, frontier community of eastern Tennessee -- soaking in the life of the frontier. By the age of twelve, Harris was working as an apprentice in Samuel Bell's metalworking shop. He married Mary Emiline Nance in 1835 and within a few years purchased acreage in Blout County, in Tucaleeche Cove at the gateway to the Great Smoky Mountains.
Harris received very little formal education but was an avid observer of humanity. His experiences in the rough mountain communities of Tennessee allowed him to appreciate the nuances of folk stories, working class desires and frustrations, and the vernacular of the southern yeoman. Harris was a jack-of-all-trades and worked as a steamboat captain, metalsmith, railroad conductor, postmaster, farmer, sawmill manager and copper mill manager in his lifetime. Alongside these varied occupations, Harris was also a politician and writer.
Harris' first writing was in the form of political articles for the Knoxville Argus in the late 1830's. In 1843 he began contributing to William T. Porter's Spirit of the Times under an assumed name. Harris' greatest achievement-- his invention of Sut Lovingood -- appears in 1854 with "Sut Lovengood's Daddy Acting Horse" in the Spirit. Sut became Harris' most famous and influential character--often acting as Democratic Party political propaganda--and always serving in an anti-Republican and anti-Yankee role. Sut becomes well known as a "nat'ral born durn'd fool" in popular stories like "Mrs. Yardley's Quilting"and "Sicily Burn's Wedding".
Sut is a complex forerunner of later creations by Twain and William Faulkner. Sut's role as a fool was coupled with the straightforward insight into the depravity of human nature that is necessary to satirize and critique society. Harris' use of Sut as a political satirist lends much insight into the mind of the South at a critical period in its history. Harris' one book, Sut Lovingood: Yarns Spun by a "Nat'ral Born Durn'd Fool" was reviewed by Mark Twain in 1867. Harris died under mysterious conditions on a return trip from Lynchburg, Virginia while attempting to retain a publisher for a second book.