PROGRAM COVER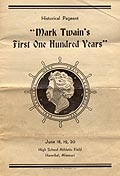 CLICK TO ENLARGE
Originally scheduled for June 18-19-20, postponed to June 24-25-26-27 because of rain (the fourth performance, at half price, was added to compensate for poor attendance at the first three), this "gigantic outdoor spectacle" was clearly the most dramatic event of the Centennial year. Although the population of Hannibal in the mid-1930s was under 23,000, there are over 1,100 names in this program. Most of the cast were white women and girls, though about 100 African Americans also appeared on stage -- mainly as Levee Workers (Spiritual Singers) in Episode Four, the story of Sam Clemens as riverboat pilot; three as Servants (Colored) and Negro Mammy in Episode Two (which gives the Clemens' family more slaves than they actually owned). The opening dramatization of Sam's birth owes something, I think, to the bibical account of the Saviour's birth (with astronomers and Halley's Comet in place of the Magi and the star). It's too bad the MT himself, who loved attention and lavish spectacles, couldn't have seen this show.
The 8-page pageant program prints the scene synposes and cast lists on different pages. I've combined them here, making all 8 pages available through this one image. You can click on any part of it to enlarge and read the text.

Courtesy Terrell Dempsey (Hannibal, Missouri).