CLICK TO ENLARGE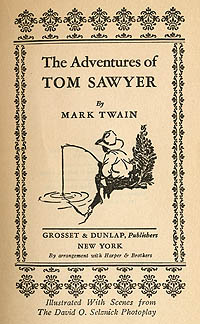 TITLE PAGE
In conjunction with the release of Selznick International's 1938 Adventures of Tom Sawyer, Grosset & Dunlap brought out a new edition of the novel "Illustrated with Scenes from the Photoplay."
Counting the frontispiece, four photographs were used, featuring Tom with a fishing pole, with a better-dressed rival, with a fence to white-wash and with Huck and Muff Potter. Copies of the edition may also have included the photo below right of Tommy Kelly, who starred as Tom, reading about his own adventures -- in any case, the copy of the edition that John Sullivan generously gave me came with that picture inserted in it.
It's interesting to see that not just the Frontispiece but also the book's endpapers, titlepage and (if Tommy is reading the Grosset & Dunlap edition) dust jacket connect Tom with fishing, which he does much less prominently in this book than Huck does in the sequel. MT was anxious to get Tom's name on the titlepage of Huck's book, but the drawing at left looks more like Huck, at least to me. All this may be an indication of how Huck had come to overshadow Tom in American readers' minds. In a different context, the frontispiece picture allows us to connect MT's story, as told by this movie, with TV's Mayberry.