---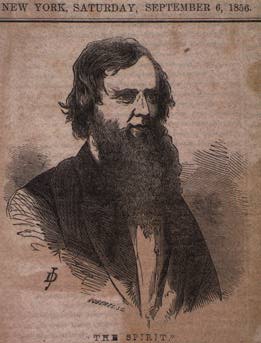 William T.Porter
After the success of Augustus B. Longstreet's Georgia Scenes, the savvy editor of a New York sporting magazine picked up on the idea of including Southwestern humor sketches in his weekly publication. William T. Porter and his Spirit of the Times did more to further the genre of Southwestern humor than any writer or publication. By the 1840's, Porter had published stories by Thorpe, Hooper, Noland, Pike and many other humorists -- often launching their writing careers. Hooper later dedicated his first book of Simon Suggs (link to an image of an original Suggs' story printed in the Spirit in 1859) stories to Porter, who had discovered his work in a struggling Alabama Whig newspaper.
Porter's magazine was a non-partisan sporting journal particularly focused on horse racing -- which Porter had acquired a love for while growing up in Vermont. However, the magazine addressed much more than horse-racing, as the subtitle suggests, A Chronicle of the Turf, Agriculture, Field Sports, Literature and the Stage. Among racing and sports sections, the Spirit included pieces on agriculture, matrimony ads, veterinary information, livestock markets, book, music and drama reviews.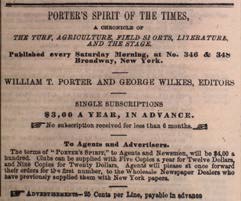 Subscription Square
Although claiming non-partisan status, the conservative slant of the magazine was obvious. Porter was a loyal Whig and his attempt to serve as an unbiased editor occasionally failed. One such instance was the full, front page memorial to Daniel Webster after his death. Porter's Whig principles, coupled with the fact that most horse breeders were wealthy Southern plantation owners, led to an appeal to and for a Southern reading audience. With their anti- Jacksonian caricatures, racist undertones, and Confederate sympathizing, Southwestern humor sketches served as a perfect means to court Southern readers.