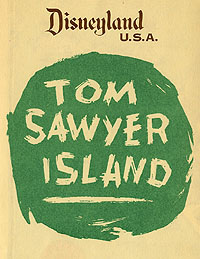 Courtesy David Thomson
"Tom Sawyer's Island," according to the park's official website, is the only attraction at Disneyland that was designed by Walt Disney himself. As Bob Thomas tells the story, Disney was so dissatisfied with the conception of designer Marv Davis that he took the plans home: "That night he worked for hours in his red-barn workshop. The next morning, he laid tracing paper on Davis' desk and said, 'Now that's the way it should be.' The island was built according to his design." It opened to tourists in 1957.
Disney and Clemens were both from Missouri. The Disneyland steamboat that cruises around Tom's Island is named the Mark Twain. To get to the Island, however, you take a raft from either Frontierland or the Indian Village. Once there, the place is less the "safe playground" evoked by most recreations of St. Petersburg, and more a realm of imaginatively dangerous adventures, less a "white town drowsing" than an outpost of civilization perched on the edge of the impenetrable, hostile Indian territory. On the other hand, like the other representations of Tom Sawyer's past, Disney's omits any reference to slavery. You might still hear Joe howling in his cave, but no sign of Jim is to be found on the island.
Below is the brochure that the original travelers to the Island were given, containing both a map and a description of the island's attractions. Both the Disneyland and the Disneyworld versions of the Island have been revamped since their original openings. Courtesy Dave Thomson.