CLICK TO ENLARGE

THEATER POSTER
c1950 RE-RELEASE OF
1938 SELZNICK FILM

Mark Twain's times included the birth of a new medium, the movies. He lived long enough to have seen the first film version of one of his books, the 1907 Tom Sawyer. Given his fascination with new inventions, he might have wanted to see this adaptation, but there is no record of his having done so.

In the century since, Tom Sawyer has been the most frequently filmed of MT's books. It was filmed three times before Huck Finn was filmed at all, and Tom himself was the star of the second movie version of Huck's story (see below). The next century might tell a different story. Based on my students' testimony, The Adventures of Tom Sawyer is still read, but it seems safe to say that most Americans born since 1975 mainly know Tom through Huck's novel, and know the plot of Tom Sawyer mostly through the more recent films on the list below. In another generation it might be time for Tom to say, "You don't know about me except you have read a book by the name of 'Huckleberry Finn.'"

Unlike the film versions of Huck's story, the movies made from Tom's adventures stick pretty closely to the plot of MT's original text. Even the most recent version, for example, still identifies its villain as "Injun Joe." No film attempts to incorporate the overt nostalgia of the novel's backward-looking narrator, but all treat both boyhood and the American past as playgrounds.


Images Courtesy Dave Thomson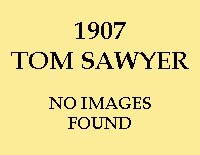 Like about 90% of the early silent movies, this first film adaptation of The Adventures of Tom Sawyer seems to be lost. The very brief entry on it in the Internet Movie Data Base contains only two names, under "Writing Credits" -- Gene Gauntier and Mark Twain.

CLICK IMAGES BELOW TO VIEW ENLARGEMENTS



A decade later William Desmond Taylor directed two film adaptations of MT's novel, both produced by the Famous Players Picture Corporation and distributed by Paramount. Julia Crawford Ivers' script for Tom Sawyer (1917) derives mainly from chapters 1 - 6 and 13 - 17 of the text. Jack Pickford, Mary's younger brother, played Tom, Clara Horton played Becky, and Robert Gordon played Huck.

Tom Sawyer was followed up a year later by Huck and Tom, or The Further Adventures of Tom Sawyer (1918), also for Famous Players and Paramount and with the same cast. This time Ivers' script focused more on the episodes that feature the two boys -- from the murder in the graveyard through the discovery of the treasure -- but as you can see from the poster below left, it still emphasized Tom's relationship with Becky. (In 1920 Taylor directed a different cast in the Famous Players' production of Huckleberry Finn.)

For an autographed publicity photo of Gordon as Huck, CLICK HERE.The links below will open up several publicity stills from Tom Sawyer (left) and Huck and Tom (the other three):



GOING TO CHURCH | IN THE GRAVEYARD DIGGING FOR TREASURE RICH
The first sound adaptation of MT's novel was made in 1930 by Paramount, and featured Jackie Coogan (whom Chaplin had made a star at age 7 in The Kid [1921]) as Tom. Huck was played by Junior Durkin, Becky by Mitzi Green, and Sid by Jackie Searl. Clara Blandick, who would be better known for an Auntie named Em in The Wizard of Oz (1939) played Aunt Polly. In the second still photo below, Charlie Stevens is playing Joe and Tully Marshall is Muff Potter (the actor who played Dr. Robinson was uncredited):


POLLY, TOM & SID | IN THE GRAVEYARD | TOM SEES JOE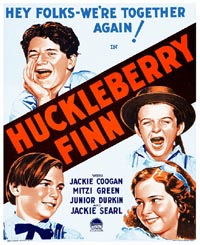 "I did wish Tom Sawyer was here," Huck says in the novel he narrates. Early Hollywood seems to have been felt the same way (at least when box-office star Jackie Coogan played him). After Paramount's success with Tom Sawyer in 1930, the studio hired Norman Taurog to direct a new version of Huckleberry Finn. Released in 1931, it again starred Jackie Coogan, Junior Durkin, Mitzi Green and (again as Sid) Jackie Searl. That's them you see at left. Despite Jim's absence from the poster, the film does follow his and Huck's misadventures on the raft -- though as you can see from the following publicity stills, Tom comes along with them for the ride:
ESCAPE FROM PAP'S | ON THE RAFT | WITH THE KING & DUKE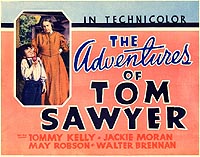 A year before he made Gone with the Wind, David O. Selznick went back to ante bellum Missouri with his version of The Adventures of Tom Sawyer (1938). Directed by Norman Taurog, who had done Huck Finn for Paramount in 1931 and who also directed Boys Town with Mickey Rooney and Spencer Tracy in 1938, the film starred Tommy Kelly as Tom, Jackie Moran as Huck, Ann Gillis as Becky Thatcher, May Robson as Aunt Polly, Philip Hurlic as "Little Jim" and gets memorable performances from Walter Brennan as Muff Potter and Victor Jory as Injun Joe.


18 PUBLICITY PHOTOS | GROSSET & DUNLAP PHOTOPLAY EDITION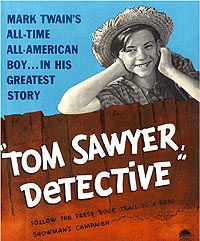 MT wrote Tom Sawyer, Detective along with Tom Sawyer Abroad in the mid-1890s, two decades after Tom's first novel appeared. At the time he was more desperate for money than at any other point in his career, and seems mainly to have been trying to cash in on the established marketability of Tom's name. Presumbably Adolph Zukor had much the same motive when he produced this film for Paramount at the same time that Selznick was making his film. The cover of the film's publicity book (left) shows a young Donald O'Connor, who actually played Huck. Huck and Tom both appear in the two posters below.


ANOTHER POSTER | ANOTHER POSTER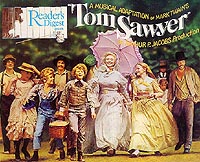 This 1973 musical adaption was Reader's Digest's first venture into movie-making. It starred Johnny Whitaker as Tom, Jeff East as Huck and Jodie Foster as Becky. The score (by Richard Sherman, Robert Sherman and John Williams) received both Oscar and Golden Globe nominations. Reader's Digest used Jeff East again when it brought out a musical version of Huckleberry Finn in 1974, though Tom's character doesn't appear in this sequel.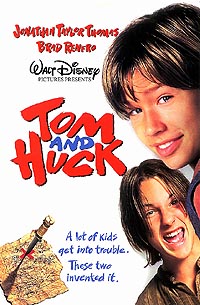 Jonathan Taylor Thomas was a 14-year-old TV star when Walt Disney Pictures hired him to play Tom; 13-year-old Brad Renfro was making his third movie in a year and a half. Disney released this 1995 movie under two other names as well: The Adventures of Tom and Huck and just plain Tom Sawyer, but it was best known by the name Tom and Huck. On the one hand, that title suggests how well known the pair was by the end of the last century. On the other, since the movie's plot derives exclusively from Tom's novel, not Huck's, the prominent use of Huck's name suggests there may have been concern about whether Tom's name by itself would draw enough attention and customers to the film. In MT's novel, we learn that Tom "did not care to have Huck's company in public places." Now he seems to need it to keep his own place in the public's mind. When Disney brought out The Adventures of Huck Finn in 1993, Tom's character was left out entirely.



© The Walt Disney Company; all rights reserved.