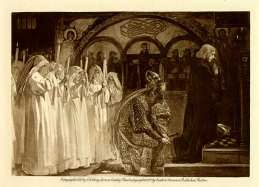 Abbey's Boston Library Murals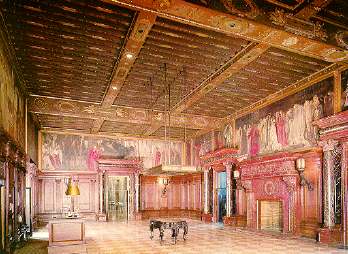 The year after Connecticut Yankee came out, Edwin Austin Abbey, another American expatriate painter, was commissioned to create a fifteen-panel mural for the Book Delivery Room at the new Boston Public Library (shown at left). The subject he chose was "The Quest for the Holy Grail." The two black-and-white engravings above -- "The Round Table of King Arthur" and "The Oath of Knighthood" -- are from a souvenir album of the panels published in 1902. The color picture below is the panel "Sir Galahad being led to the Seat Perilous." (In Connecticut Yankee Launcelot buys the Seat Perilous from Galahad after Hank turns the Round Table into a stock exchange.) Abbey's work was unveiled in 1901. Among the critics and reviewers who praised his achievement was Mrs. Arthur Bell, who wrote in The Artist: "Mr. Abbey's 'Quest of the Holy Grail' is as fine a thing in painting as Tennyson's interpretation of the same theme in verse, and is a proof, if proof be needed, of the close kinship between all great thinkers of the Anglo-Saxon race whatever their nationality." What, if anything, Mrs. Bell thought was proven by MT's prose interpretation of the theme is not known.
Color images reproduced by permission of the Boston Public Library.