At Home Around the World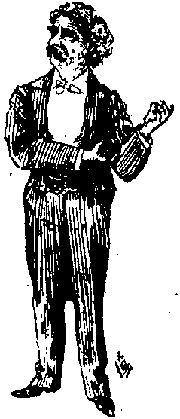 In the mid-1880s MT hoped a machine that set type and a company that published other people's books could make him rich. When they wound up bankrupting him by the mid-nineties, he determined (with nudging from his wife and from H. H. Rogers) to pay his creditors in full. As he said in a widely reprinted statement about the lecture tour he undertook to make the money he needed, "honor is a harder master than the law." In 1895 he accepted the invitation of Carlyle G. Smythe, an Australian impresario, to lecture in the British colonies. Because of his health problems, Livy and his daughter Clara decided to accompany him. The North American leg of the tour, the focus of this part of the archive, was arranged as an afterthought by Major James B. Pond, who ten years earlier organized the Twins of Genius tour. Pond and his wife went along with the Clemenses as far as Vancouver.
Before he began his last and longest lecture tour, MT was $100,000 in debt, poor in health, and extremely reluctant to go back on the road. He would not have undertaken it if he could have found another way to repay his creditors. By the time he reached the Pacific, however, after 23 performances in 22 American and Canadian cities, he was feeling great. From Vancouver, British Columbia, in August, 1895, he wrote the San Francisco Examiner:
Lecturing is gymnastics, chest-expander, medicine, mind healer, blues destroyer, all in one. I am twice as well as I was when I started out. I have gained nine pounds in twenty eight days, and expect to weigh six hundred before January. I haven't had a blue day in all the twenty-eight. My wife and daughter are accumulating health and strength and flesh nearly as fast as I am. When we reach home two years hence, we think we can exhibit as freaks.
MT spent eight weeks in Australia, six in New Zealand, eight in India and seven in South Africa. At every point audiences were excited and receptive. By the time he'd reached the end of the tour, when he and his family sailed from Capetown on 15 July 1896 after over a hundred more performances, he was exhausted but much closer to solvency. According to Fred Lorch, the whole tour netted between one-third and one-half the money MT needed to cancel his debt.