These navigational aids only appear within a specific section. In addtion to them there are five icons used throughout the archive. Two of these are intended to make it easier to move around in or through a specific exhibit. The first, "Huck at Home" (from Tom Sawyer), appears at the bottom left of many exhibits; this links you to the homepage of the specific subsection you're in (for example, if you're reading a review of Connecticut Yankee, climbing into the barrel with Huck takes you back to the homepage listing all the Connecticut Yankee reviews). The second, "On the Raft" (from Huck Finn), appears at the bottom right; this links you in linear fashion to the next item in that subsection (for example, again if you're reading a review of Connecticut Yankee, hitching a ride with Huck and Jim takes you on directly to the next review).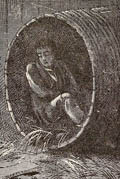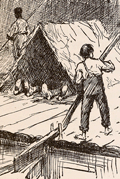 The other three icons used throughout the exhibit are below. On the left, the head of MT: this will always bring you all the way back to the archive homepage. In the center, an illustration by E.W. Kemble for MT's sketch about the "Siamese twins": this indicates an available link between a specfic quoted passage from a MT text and the e-text of the entire work in which it appears. On the right, a detail from an ad for MT's most profitable book, his self-pasting scrapbook: clicking on this will take you to the archive bibliography, where are listed the secondary works I consulted during the construction of the archive; the title displayed at the top of the screen will be the specific work used for the part of the archive you clicked from. When you're in the Bibliography, the best way to return to the place you clicked from is the Back button.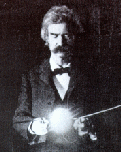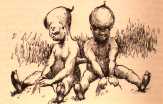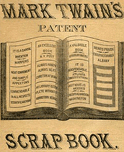 As you'll see when you move around in the archive, there is a lot of symmetry in the organization, which should make navigating easier. When you move into the section on a work, for example, whether Tom Sawyer or Connecticut Yankee, you'll find things like the sales prospectus, the e-text, the reviews, and so on, in a familiar order. On the other hand, I hope there will also be some surprises, and maybe even moments when the familiar becomes new and strange.
To move on from this page, simply click on any of the icons. If you'd like next to learn about searching the texts in the archive, click on the raft icon. To move directly into the archive itself, click on any of the homepage icons.