Olivia Clemens
Olivia Langdon (1845-1904), wife of Sam Clemens, was born to a wealthy, abolitionist family in Elmira, New York. She was considered to be frail in health - "It is likely that Clemens was informed early on by Mr. & Mrs. Langdon about the supreme delicacy of Olivia's health" (Trombley 95). The Langdons experimented with a variety of health treatments to aid Olivia; including sending her to Gleason Water Cure to receive hydrotherapy. Although lacking in physical prowess, she proved to be a bastion of moral and intellectual strength. She was raised in a stimulating environment, constantly being exposed to some of the most exciting issues and people of her day - "Throughout her life, Olivia was close to women who were dynamic, intelligent, unapologetic, as well as committed feminists - women who had rejected the purely domestic sphere in favor of participation of the outside world"(Trombley 131). Through being in contact with such people as Julia Beecher, Isabella Beecher Hooker, and Anna Elizabeth Dickinson, she forged an identity as a reformist - committed to such causes as temperance, abolition, and women's suffrage.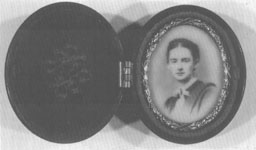 Clemens first beheld her image in an ivory miniature in her brother's stateroom aboard the Quaker City, the voyage on which Clemens recorded for Innocents Abroad. Soon after his return, he visited the Langdons and less than two weeks after that, he was in love and proposed to her. She rejected his offer at first but after a couple years and a couple hundred letters, they were finally engaged. During this courtship, Clemens made some remarkable reformations - "Livy disapproved of drinking, smoking, Western manners, and even humorists, and he courted her by offering, in all sincerity, to make over his character and his habits to meet her desires. For a while, he came close to religious orthodoxy, prayed, and went to church..."(Kaplan 82). To Olivia's dismay and continual frustration, these efforts to reform himself curbed off after his courtship, and he reverted back to some of his old habits and religious unorthodoxy.
Nevertheless, Olivia's moral influence and literary experience played a large part in the popularity of his collective works. "When Clemens was introduced to her on December 31, 1867, he met a woman far better educated than he was"(Trombley 46). With her help, Twain's work became increasingly accessible to a female audience, a necessity for being a popular writer in his day. He wanted an equal for "he would not marry until he could maintain his wife 'in the position which I designed her for, viz; - as a companion. I don't want to sleep with a threefold being who is a cook, chambermaid, and washer woman all in one'"(Trombley 43). In other words, he did not want the stereotypical women of his times - subservient, domestic, etc. This position revealed itself in Clemens asking her to proofread and edit all his manuscripts. Where Clemens was the raunchy, unpolished, and humorous half of the team, Olivia was the "strait" half, who encouraged Clemens to take a serious approach to his works - "I never wrote a serious word until after I married Mrs. Clemens. She is solely responsible - to her should go the credit - for any influence my subsequent work should exert. After my marriage, she edited everything I wrote"(Trombley 168). Even though he joked about being "henpecked," or "whipped" as we would say, most of his respected works were created during his marriage with Olivia (Kaplan 82).
Filling roles in both Romantic and Reformist areas of Clemens's life, her influence can be seen fairly easily in all these characters:
More Olivia Pictures
Home