MT's Tom Canty, the pauper in The Prince and the Pauper, lives in a hovel in Offal Court, dreaming about "the life of a petted prince in regal palace."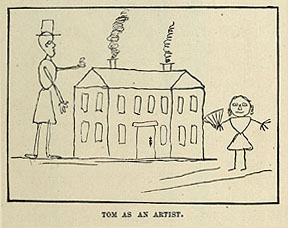 Click to see full page.
  Fans of MT's Tom Sawyer like to remember him running away from home, or sneaking out of Aunt Polly's house for an adventure with Huck. But when Becky Thatcher asks Tom to draw her a picture, he produces the tribute to American middle class aspirations at left. The evidence suggests the real "artist" was not Treat Williams, who drew the other illustrations in Tom Sawyer, but MT himself. Despite the comic flavor of Tom's drawing, there's no question that Sam Clemens shared Tom's belief that a big house could make a man feel big too. At the very moment he was writing Tom Sawyer, he was mortgaging his future as a literary performer to the expense of constructing and maintaining that mansion in Hartford. One good house was going to depend upon the other.